Site com letra de músicas e cifras para violão, dos mais diversos gêneros e estilos
Robin Gibb - Discografia
Esta é a discografia completa de Robin Gibb, cantor manês que foi integrante do grupo musical Bee Gees. Em carreira solo em períodos esporádicos de 1969 até o fim de sua vida.
Robin's Reign
Ano de Lançamento: 1970
Gravadora: Polydor, Atco. (EUA)
August October
Gone Gone Gone
The Worst Girl in This Town
Give me a Smile
Down Came The Sun
Mother And Jack
Saved By The Bell
Weekend
Farmer Ferdinand Hudson
Lord Bless All
Most Of My Life
Sing Slowly Sisters

Ano de Lançamento: 1970
Gravadora: Disco não lançado

Disco 1
Life
I've Been Hurt
Iron In The Fire
Cold Be My Days
Avalanche
Disco 2
Make Believe
All's Well That Ends Well
A Very Special Day
Sky West and Crooked
Sing Slowly Sisters
C'est La Vie, Au Revoir

Sgt. Pepper's Lonely Hearts Club Band - participação
Ano de Lançamento: 1978
Gravadora: RSO Records
Oh! Darling"

Times Square - participação

Ano de Lançamento: 1980
Gravadora: RSO Records

"Help Me!" - Robin Gibb e Marcy Levy

How Old Are You?
Ano de Lançamento: 1983
Gravadora: Polydor
Juliet
How Old are You
In And Out Of Love
Kathy's Gone
Don't Stop The Nighty
Another Lonely Night in New York
Danger
He Can't Love You
Hearts On Fire
I Believe In Miracles
Secret Agent
Ano de Lançamento: 1984
Gravadora: Polydor, Mirage (EUA)
Boys do Fall In Love
In Your Diary
Robot
Rebecca
Secret Agent
Livin In Another World
X-ray Eyes
King Of Fools
Diamonds

Walls Have Eyes
Ano de Lançamento: 1985
Gravadora: Polydor, EMI (EUA)
You Don't Say Us Anymore
Like a Fool
Heartbeat In Exile
Remedy
Toys
Someone to Believe in
Gone With The Wind
These Walls Have Eyes
Possession
Do You Love Her?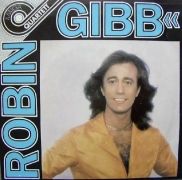 Robin Gibb - comapcto
Ano de Lançamento: 1985
Gravadora:
Juliet
How Old are You
Boys do Fall In Love
Robot
Magnet
Ano de Lançamento: 2003
Gravadora: SPV GmbH, Indie Records (BRA)
01. Please
02. Don't Wanna Wait Forever
03. Wish You Were Here
04. No Doubt
05. Special
06. Inseparable
07. Don't Rush
08. Watching You
09. Earth Angel
10. Lonely Night in New York
11. Love Hurts
12. Tantas Palavras (Please) - Bonus

Robin Gibb with the Neue Philharmonie Frankfurt Orchestra Live

Ano de Lançamento: 2005
Gravadora: Eagle / ST2 (BRA)

01. Emotions
02. Gotta Get A Message To You
03. How Deep Is Your Love
04. Nights on Broadway
05. Love Hurts
06. Massachusetts
07. My Lover's Prayer
08. Night Fever
09. New York Mining Disaster 1941
10. Please
11. Saved By The Bell
12. To Love Somebody
13. Words
14. You'll Win Again
15. Juliet
16. Tragedy
17. Jive Talkin
18. Staying Alive

My Favourite Christmas Carols

Ano de Lançamento: 2006
Gravadora: Edel (EUR), Koch (EUA), Evolution (Ásia)

In the Bleak Midwinter
O Come All Ye Faithful
Silent Night
God Rest Ye Merry Gentlemen
Good King Wenceslas
Away In A Manger
Once in Royal David's City
Three Ships
Hark! The Herald Angels Sing
Noel


The Titanic Requiem - Royal Philharmonic Orchestra

Ano de Lançamento: 2012
Gravadora: Rhino

Triumph (Shipbuilding)
Farewell (The Immigrant Song)
Maiden Voyage
New York Suite In C Major
Sub Astris (Under The Stars)
Kyrie
SOS (Tract)
Distress (Confutatis)
Salvation (Gradual)
Reflections
Daybreak
Christmas Day
Libera Me
Don't Cry Alone
In Paradise (Awakening)

50 St. Catherine's Drive

Ano de Lançamento: 2014
Gravadora: Rhino

Days Of Wine & Roses
Instant Love
Alan Freeman Days
Wing And A Prayer
I Am The World
Mother
Anniversary
Sorry
Cherish
Don't Cry Alone
Avalanche
One Way Love
Broken Wings
Sensuality
Solid
All We Have Is Now
Sydney


Copyright © 2018-2019 @ Heitich Media Digital - Veja o nosso podcast no soundcloud com dicas de músicas e análises, assista tambêm o nosso canal no youtube com muitas playlists e análises de música.

Hashtags: #discografias #letras #anos80 #analisedemusica #paradadesucesso